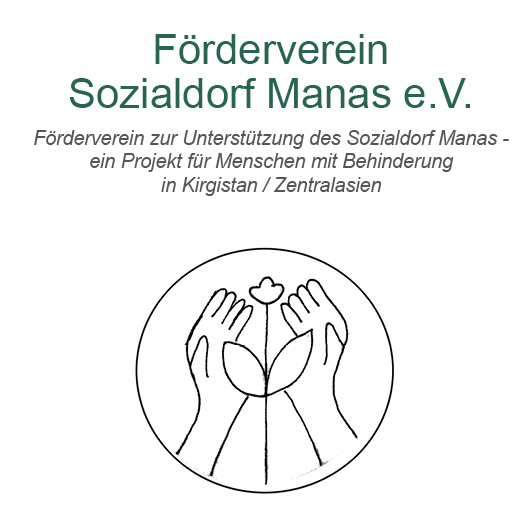 The residents of the social village Manas
come from the children's rehabilitation center, from state children's homes or homes for adult persons with disabilities; some are brought by their families, others by people from their immediate vicinity. The paths they take into the social village Manas are therefore very individual. Some stay short, others are already for very long in the social village Manas and do not want to go anywhere else. Some develop very well, and learn to be independently in domestic work, and can go back home to live with their families and assign for work to contribute to the family income.
Here we present some of the residents of the Social Village Manas: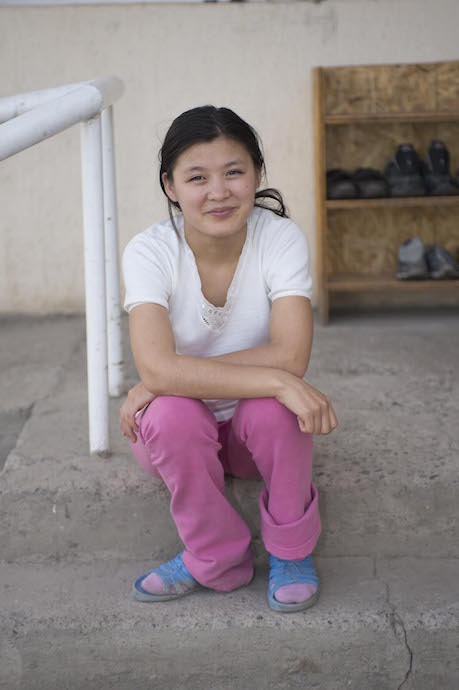 Meerim
"… but I would like to live in the social village."
Meerim was exposed as a baby, but the man who found her and his family kept her, even though they were very poor. When she was six years old, they brought Meerim to the state nursery. They often visited her there. Someday they stayed away and no one knew where they were and whether they were still alive. Afterwards Meerim was brought to a new nursery; therefore she did not have any contact with her foster family for a very long time. In the nursery in the small town of Bielovodsk, close to Murake, the village where the Social Village Manas is, Meerim stayed for at least 10 years. She is now for several in the social village Manas and feels very comfortable there. She doesn`t want to leave anymore. When a newspaper published her story, her foster family read the report and came to the Social Village Manas. They even asked if she did not want to come back to them. But Meerim wanted to stay in her new home, the Social Village Manas. She has the feeling of making something meaningful by bringing herself into the community. That gives her a lot of joy. She is a hardworking sewer in the felt workshop and helps a lot in the household. Meerim is 23 years old.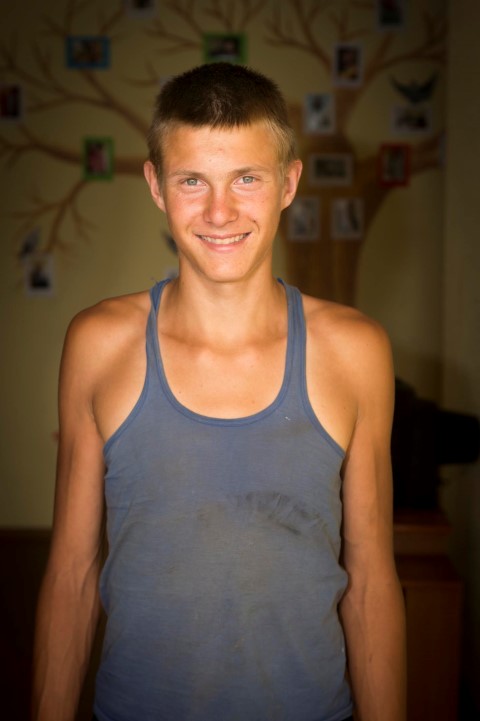 Slava
"There have to be demanding tasks …"
Slava is an orphan. He grew up on the street and was brought to the children's center by employees of Nadjeschda. There he could go to school. In winter 2013 he came from Nadjeschda to the Social Village Manas. The time as a street child has shaped Slava very much. He could not rely on anyone and is still a single fighter. He is a strong young man who likes to train his muscles at the high bar, with dumbbells or during heavy work, and does not consider himself handicapped. The residents of the social village are his friends, but he often feels constricted by the rules needed for living together in a community. Life in the social village is sometimes insufficient for him, but living outside would even be harder. He needs activities that demand him. He is also happy to work on construction sites and he also has gift for manual work. However, he is at the same time very unstable and distractible. He works very well with the cows. He milks, feeds and protects the cows – as does Ruslan. Slava also likes to help with the shopping in Bielovodsk. He dreams of being able to move into a living-group and help in the shop when the extension of the Social Village Manas is realized. Slava is certainly one of those who could strongly benefit from such a development of the Social Village Manas. He was born in 1995, at the moment he is 21 years old.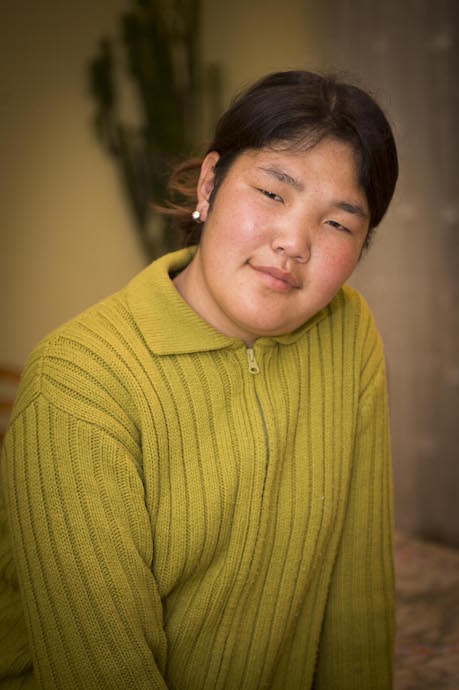 Orungul
"…about Orungul…"
… we will soon write more …
Ruslan
"Tour guide and shepherd are my main professions."
Ruslan moved from the children's home to the Social Village Manas to Murake four years ago. Animals in general and cows in particular are his great passion. Every morning at six o'clock he or Slava, the other shepherd get up – one and a half hours before the other residents – and goes to milk the cows of the social village Manas. Then he drives the small flock to the shepherd of the village, who takes them to the mountains throughout the day. He comes back with fresh milk for breakfast. Because he cannot read the watch, he sometimes falls asleep and cannot deliver the cows on time to the shepherd. But this is not a big deal: then he goes with them to the river and pastures. He loves the cows. With a snack in his pocket, his self-made whip, and a shepherd's stick ambling across the fields is the greatest thing for him. Just as well, he likes leading guests through the village of Murake, where the Social Village Manas lays at the outskirts. Ruslan knows every person and every corner in the village. He always knows where a bitch has just got a puppy. He can also tell a lot of insider information during his tours. Ruslan is sociable, but he does not like to tell about his time in the orphanage. It was not nice. He would rather tell of his parents, and how well they were to him. He says, "They died many years ago in a car accident. That's why I had to go to the orphanage. "He loves the Social Village Manas and likes to live there. "All I need for being happy is here – tea, food, friends and cows." He likes to make small gifts of felt for the manager or guests. He cannot write himself and unfortunately also not memorize numbers so he sometimes asks the volunteers or staff to write a letter to them. Only the employees of the Social Village Manas know that Ruslan was found as a baby by a policeman in a waste container. The policeman then took him to the orphanage. But Ruslan is very happy and satisfied with his reality. He is 23 years old.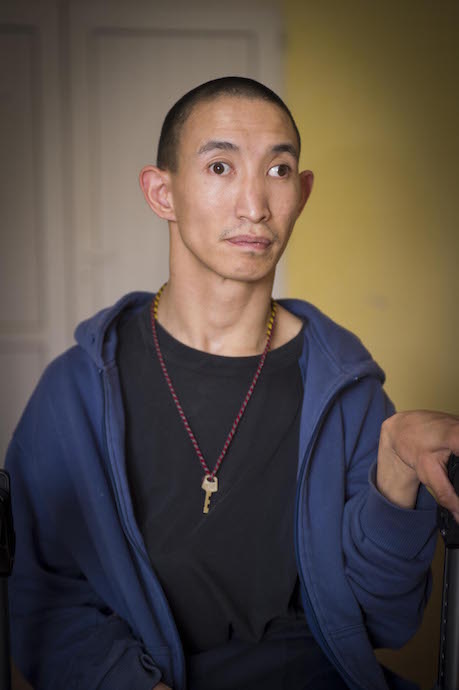 Bektur
"My parents have not decided for the apparently easier way."
Bektur is the savant among the inhabitants of the Social Village Manas. He would have liked to become an anthropologist or a historian. He is 32 years old and has been living in the Social Village Manas for two and a half years. He likes to talk with the volunteers about kings, revolutions, religions and history. He is a man of philosophy. Sometimes he calls himself an anarchist. Mathematics is difficult for him, but he likes to grab the volunteers in the evening to practice with him. He has a family that he regularly visits. But his parents are very poor and sick, so they cannot take care of Bektur. He says his childhood was quite normal. He was allowed to go to school in Nadjeshda for nine years. He could not go to a public school because of a defect of his legs. Education is not provided for people with disabilities in Kyrgyzstan. His parents, however, have always done all they could to provide Bektur a normal life. Now that they can no longer support him, he is also dependent on the help of donors.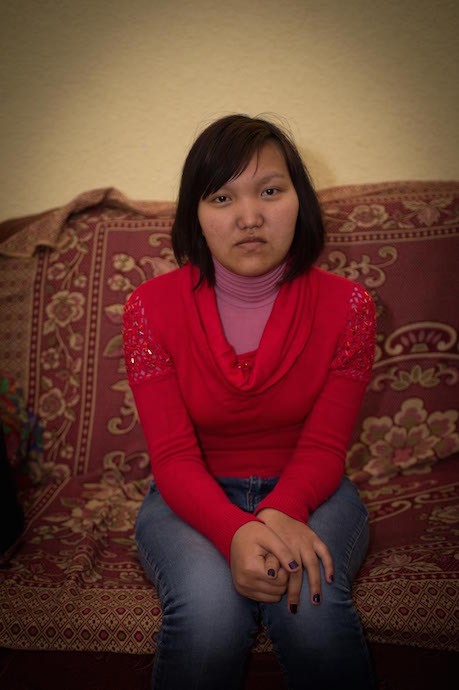 Aijan
"… about Aijan …"
… we will soon write more …
Baiaman
"At some point my grandmother could not take care for me anymore."
Baiaman was born in Russia, but grew up in Kyrgyzstan. His mother tongue is Russian, even though he is Kyrgyz. He knows his family. He lived with them in many places. One day his family brought him to his grandma to Kyrgyzstan, and she took care for him for several years. When he was fifteen years old she gave him to the nursery in Bielovodsk, where he grew up like Meerim. When he was eighteen, he was allowed to move to the Social Village Manas. He is sitting in a wheelchair and cannot move his legs by himself. But he is very strong because he regularly exercises with dumbbells. That's why he always wins arm wrestling competitions. Baiaman works in the felt workshop and is a very diligent employee there. In his leisure time, he sings, listens to music, or walks with the autistic Askart. He pushes him through the area and they explore the village together. Baiaman is very happy to be outside in the fresh air. Every day you can see him on his tour with another resident of the Social Village Manas. Baiaman is 22 years old.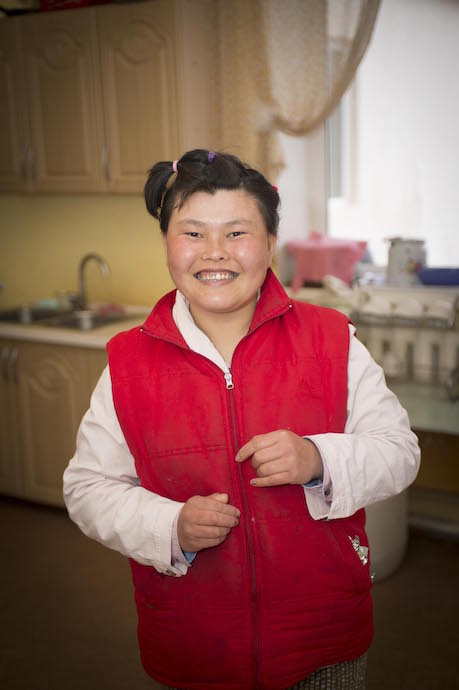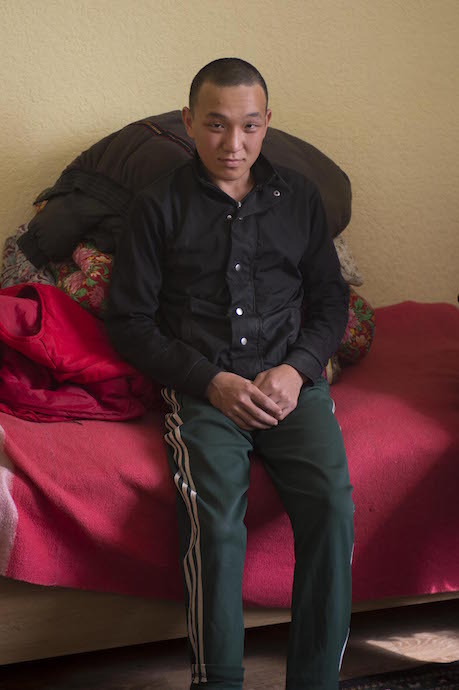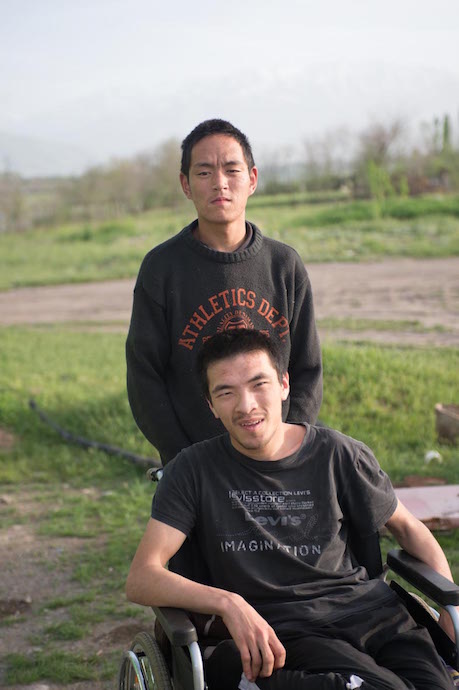 Murat
"… Murat, here with Baiaman, …"
Disabilities: Very common are disabilities due to birth defects. Some residents, for example, have infantile cerebral palsy, ie movement disorders due to early cerebral damage caused by disturbances of the nervous system and the muscular system in the area of arbitrary motility. In light cases, this is manifested by dislocated legs, with limping, and in more severe cases they are dependent on the wheelchair. There are also cases of infantile paralysis or spastic quadriplegia, ie paralysis of all four extremities, of which the torso is also affected. In the case of spastic quadriplegia, the muscles are often shortened, so that the joints on arms and legs are not freely moveable. Because of the unbalanced tension of the musculature they often suffer from scoliosis. But also various mental disabilities, mental retardations, psycho-syndromes, autism and various combinations of different disabilities or other defects are found among the residents of the Social Village Manas.