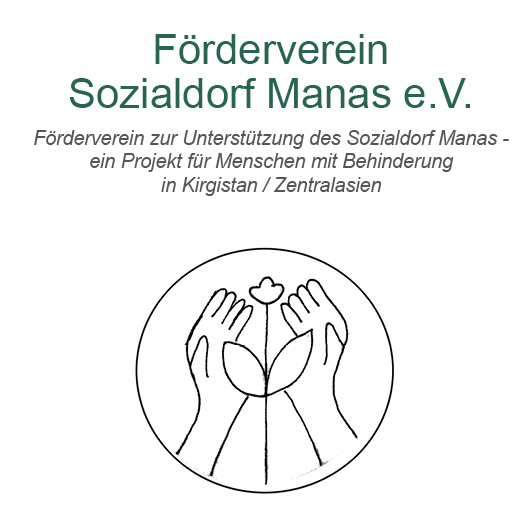 The Social Village Manas Association
The Social Village Manas Association is a non-profit organization that supports initiatives for young and adult persons with disabilities in Kyrgyzstan.
Board:
Laurens Krämer (Chairman – CEO)
Heike Fahlberg (deputy board member – COO)
Extended board:
Lena Halbig, Pia Drechsler, Pauline Walesch, Simone Ott, Lena Weber, Bigi Möhrle
The Förderverein
Represents the social village of Manas in Germany and in Europe. He is committed to helping people in the German-speaking world and beyond to learn about and support the social village. At least once a year, members of the project support organization travel to Kyrgyzstan in order to be in direct contact with the project management, the staff and residents, and to discuss development and support needs. We support the establishment not only financially, but also help the employees with advice and action. If we can not answer questions ourselves, we are looking for experts who can advise us.
Our most important task is donation. On the one hand, to contribute to the running costs of the social village without which it could not exist, and on the other hand to promote projects and developments there. For this, we are always looking for cooperation with other organizations, such as the Swiss fund for development work "Acacia".
Very important is the personal exchange. We want to see how the residents are treated, how they are cared for and how they have developed. We are looking at how the social village of Manas has developed and how the project funds have been used. At the same time, we learn about the needs, the needs and the necessities for new projects. In order to be able to support the projects, we are looking for donors * afterwards.
The members of the Association work voluntarily.
Partners and references of the Social Village Manas Association
Our partners are
ACACIA – Foundation for Development Cooperation
The social village Manas / Kyrgyzstan was taken in 2012 by ACACIA from Basel / Switzerland, as a promising project. The donations to Acacia are entitled to Swiss deduction of rights)
www.acacia-verein.ch
AMD GmbH
(Large donation contribution to the construction of the second dwelling house and the felt workshop)
www.amd.com
German Embassy in Bishkek, Kyrgyzstan
(Great support for the construction of the first house!)
www.bischkek.diplo.de/Vertretung/bischkek/de/Entwicklungszusammenarbeit/Kleinstprojekte.html
Friends of the Education Rudolf Steiner eV
(Cooperation in the project "Construction of the second residential house and a felt workshop")
www.freunde-waldorf.org
Eva Engler Graphic artist
(Layouts for flyers, etc. of the social village)
Email: e@evaengler.de
Hostweb – Hostserver GmbH
(Support: Home for our site)
www.hostweb.de
Kopierladen Markdorf
(Support: Flyer and posters, etc.)
www.kopierladen.net
Children's rehabilitation center Nadjeshda
(Long-term cooperation of projects)
www.nadjeshda.org
Martin et Karczinski
(Metk support the social village of Manas extensively)
http://www.metk.de/engagement/
Piktoresk – graphic design
(Olaf Baldini creation of the webpage)
www.piktoresk.de
Turkish Airlines
(Support: flight tickets)
www.turkishairlines.de
2radkamele.de
Bookmark and Share
(Charity film show in favor of the social village Manas)
www.2radkamele.de
Zwecklöffeln
(Behind this concept are not only four people, who are the initiators of an extraordinary idea, but also all those who have been and are, are making an effective contribution to the expansion of Sozialdorf Manas and other projects with their great commitment.
www.zweckloeffeln.de